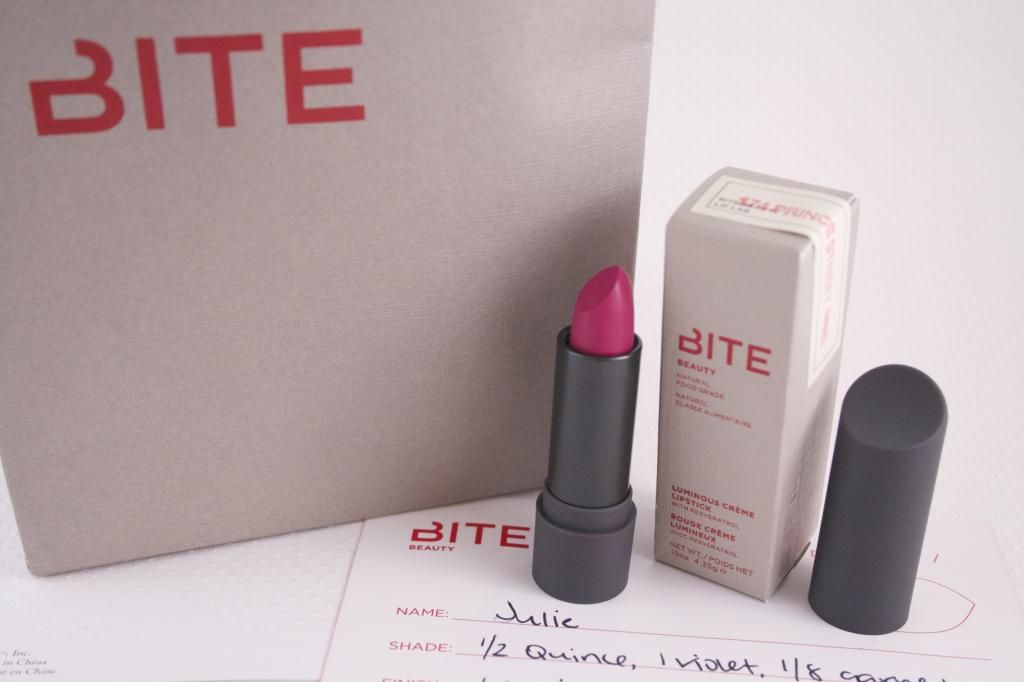 It's no secret that I think Bite Beauty is a stellar brand and have a lot of love for their products (see
here
,
here
, &
here
). So when I decided to head to NYC for a quick weekend trip for a concert,* I knew I wanted to stop by the Bite Lip Lab!
*For enquiring minds, I went to see the Belgian rapper/musician Stromae, who is out of this world good even if you don't speak French.
The Bite Lip Lab is located in a small store in Soho and there you can make as many custom lipsticks as your little heart desires with the help of one of the technicians. They do accept reservations for appointments, and I would recommend you make one! I called on a Wednesday and was able to secure an appointment for two days later (a Friday), but weekend appointments should be scheduled further in advance. If you don't have an appointment, it is possible that they can squeeze you in as a walk-in, but I would call to schedule a booking if you can. Contact details are available
here
.
Bullets of color that Bite will divide and mix up to create a custom shade for you.
I was torn between asking Bite to help me a create a nude shade (which I find endlessly challenging) or a fuchsia/berry. I decided on asking for the bolder shade, as I thought it would be more obtainable than the perfect nude. I actually used a picture as a reference point for the ultimate look I was going for, but you can also just describe what you're looking for and they will happily work with you.
The Bite Technician started by mixing up one shade initially. She then gave me a lip brush and I was able to try on the shade to see how it would look on my lips. After agreeing that it was too light for what I was looking for, she created a second shade. The second shade was exactly what I had asked for, but out of sheer curiosity, I asked her to make a third shade that was a bit darker, just to see if I liked that better. I ultimately ended up going with the second shade she created, which is in the top right in this picture.
Scent choices: Violet, Rose, Mint, Wild Berry, Vanilla, Cherry, & Mango
In addition to choosing the color of your lipstick, you can choose the finish as well. I went for a luminous creme finish and selected a combination of Violet and Mint as the scent of my lipstick. After mixing a batch of my shade, the technician poured enough product to make two bullets of lipstick (one as insurance, in case the first bullet had problems for some reason) and then cooled them. As they chilled, I not only got to watch and take some pictures, I also chose which cap I wanted for my lipstick (there were four options).
There is no pricing info available on Bite's website, but the cost of each custom lipstick is between $35-$42 dollars (I don't know what makes a lipstick more or less expensive, but mine was right around $37). It was a very fun process and it isn't prohibitively expensive. The technician I worked with was very patient, and I'm sure she would have kept mixing colors had she not pinpointed exactly what I wanted so early on. This process might be a bit difficult for the indecisive among us, but it's worth checking out if you are going to be in New York and are looking for a fun beauty-related activity!
My finished product
Have you ever been to the Bite Beauty Lab? What would you have made if you visited?